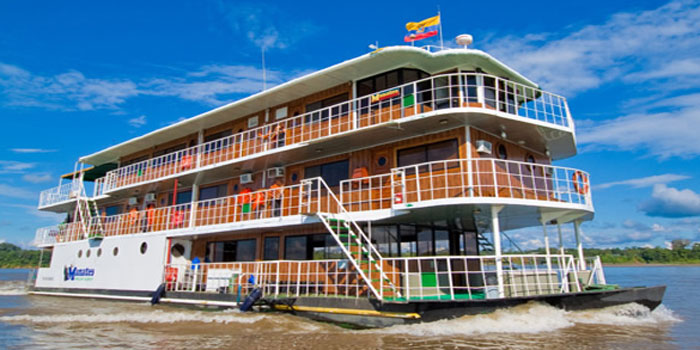 Manatee Amazon Explorer: Cruise A
4 days Friday to Monday
EXPLORE THE AMAZON
The M/V Manatee Amazon Explorer operates from Orellana Province, starting in Coca, where you can arrive either by bus, 8 hours drive from Quito, or by plane, 30 minutes flight from Quito. Travel by motorized canoe to the Manatee.  This inspiring journey will include a myriad unexpected possibilities and the surprising forest visions of magical flooded forests at the Cuyabeno Nature Reserve, untamed wilds within the Yasuni National Park (the largest national park in Ecuador) and the quiet stills of Pañacocha (Piranha Lake), as we climb up canopy observation towers, inch down black-water jungle streams, walk the understory through meandering trails and meet the sacred peoples of the Amazon forest base.
Day 1 – Friday
Quito – Coca – Napo River – Yasuní National Park
Morning departure from Quito (a short 30-minutes flight) arriving at the city of Coca (Francisco de Orellana); transfer to the Río Napo port; journey by motorized canoe downstream (ninety minutes) to board the M/V MANATEE, all the while observing the ever-changing forest-clad riverbanks of the silty-brown headwaters of the Amazon River. Soon after boarding, the M/V Manatee will start navigating downstream, a great opportunity for observing from our sundeck the amazing flora and fauna of the region. After lunch, an initial outing on one of our trails will introduce you to the wonders of the tropical rainforest, an easy walk that will bring you to your first encounters with the Amazon Basin. After dinner, enjoy an optional nocturnal walk into the forest to discover the mysteries of this unique environment and see how life emerges in the dark right before your eyes. (L.D.)
Day 2 – Saturday
Visiting the Pañacocha Biological Corridor
We will continue our navigation downstream to the Pañayacu River delta; take a canoe trip up the river to experience the sights of this fascinating reserve. We will seek out Pink River Dolphins, Common Squirrel Monkeys and much more. Pañacocha (Piranha Lake, in Quechua) is an ecosystem flooded by white waters. The rivers and lakes here are the perfect habitat for the infamous Piranha, as well as the Water Monkey Fish (Arawana) and White Caiman. After a refreshing swim (for the courageous!), we will enjoy a delicious Amazon-style BBQ meal and refreshing beverages at a nearby camping site. In the afternoon, we will head out on exploration trails, and return onboard for dinner. (B.LD.)
Day 3 – Sunday
Kury Muyu & Parrot Clay Lick
Breakfast served on board. Today we will enjoy a cultural & ethnic encounter with the locals. We will spend some time at one of the forest communities to learn about their everyday lives. Take advantage to shop for local handcrafts and souvenirs. Later we head over to the Parrot Clay licks, a great place to witness one of the most exciting wildlife spectacles in Amazonia. After lunch, explore one of our local jungle trails as we head to a most unique water museum, where you will learn about many of the creatures that inhabit this environment. After the visit, conditions permitting, paddle your way downstream back to the Napo River Basin and enjoy more opportunities to observe wildlife.  Return to the M/V Manatee for dinner. (B.L.D.)
Day 4 – Monday
Manatee Explorer – Coca – Quito
Early departure from the Manatee and transfer back to Coca (two-hour canoe ride); return flight to Quito. (B.)
FLIGHTS: The cruise operates with the following TAME Airlines flights:
Friday: Quito / Coca EQ # 121 Depart 09.00 / Arrive 09.30
Monday: Coca / Quito EQ # 212 Depart 10.00 / Arrive 10.45
SEE BELOW FOR ALL CABIN RATES
Please note:
While it is our intention to adhere to the route described above, there is a certain amount of flexibility built into the itinerary and on occasion it may be necessary, or desirable to make alterations. On daily basis of your tour you will be advised of any amendments.  The Expedition leaders will always be offering information about the region, tours, weather conditions, navigation, native cultures and probabilities to encounter wildlife through lectures, briefings, recaps and videos.
M/V MANATEE EXPLORER
The vessel can accommodate up to 30 passengers in 14 charming double, double-twin and single-twin cabins. Each cabin is equipped with air conditioning, closets, a private bathroom complete with a special shower massage, hot and cold water, 24-hour electricity and 110-voltage outlets and switches. Large windows allow you to enjoy the beautiful and constantly-changing Amazonian scenery.   The vessel also boasts both interior and exterior dining areas located on main deck and sun deck, which additionally features a bar and conference room. The conference room includes a flat-screen television, projector and comfortable seating, where our nature guides will give informative talks and briefings for the following day's activities. This room also has a computer lounge with internet service, as well as a small library that includes novels and specialized guides on the region's nature and wildlife.  Chefs offer a spectacular variety of both national and international dishes, as well as an excellent selection of beers and sparkling wines.  Communications on board: Telephone, HF and VHF radio.Satellite internet. Maximum speed: 15  knots downstream; with the current up to 15 knots; against the current between 5 – 8 knots. The vessel is comfortable, and complies with both national and international navigation —as well as safety, security, and environmental protection— standards. Expedition cruising, by its very nature, is characterized as adventurous. The Manatee Amazon Explorer is fully equipped and maintained in order to handle the most challenging conditions and circumstances and is manned by experienced and conscientious expedition staff and crew. The small fleet of motorized canoes, used for daily shore landings and exploration of the most remote areas and inaccessible shores, are rugged and versatile and are operated responsibly by experienced personnel. On board you will be fully briefed on all pertinent safety issues and concerns, as well as our environmental policy; passengers also receive appropriate and detailed briefings before each landing.
GLAMPING
Amazonia couldn't miss out on Glamping, the new craze in luxury adventure! Stay in camps fully sealed and above ground on wooden platform equipped with comfortable beds, charming rustic furniture and excellent service. Guests may enjoy gourmet meals, champagne and hot showers in the tented area after exciting nature walks in the most riveting of natural environments, the mega-diverse Amazon rainforest. You may choose between four different camp sites (Cocaya, Jatum Cocha Yasuni, Huririma and Sani), where you can enjoy and explore the beautiful surroundings and amazing biodiversity of plants and animals. In the evening, local guides will tell exciting tales on life in the jungle. In the early morning, navigate by kayak along secret rivers and observe wildlife and nature you never expected, waking up to the sun's first rays. This additional program operates on a minimum of 2 passengers and has a price of US$150 per person, per night, in addition to the Manatee Cruise. Check with Movidas at the time of booking your cruise as numbers are limited.
---
Tour Cost
| | | Share | Single |
| --- | --- | --- | --- |
| Double Cabin | USD | 795 | |
| Triple Cabin | USD | 684 | |
| Single Cabin | USD | | 1205 |
| Child under 12, sharing cabin with parents | USD | 404 | |
What's included
Return transfers from Coca's airport to and from the M/V Manatee; on board accommodation; all meals while on board; programmed visits according to itinerary with a certified naturalistic guide; unlimited water, coffee and tea.
What's not included
Airfare or air taxes Quito - Coca - Quito currently US$170 per adult, and US$105 per child under 12 years; transfers to and from Quito airport; communiites entrance fees US$45 per person; alcoholic and non-alcoholic beverages; Any other airfares or airport taxes, gratuities, internet wi-fi; insurances, personal expenses and any items not mentioned as included.
Notes
All prices quoted are US Dollars per person. All prices and itineraries are subject to change with or without notice.