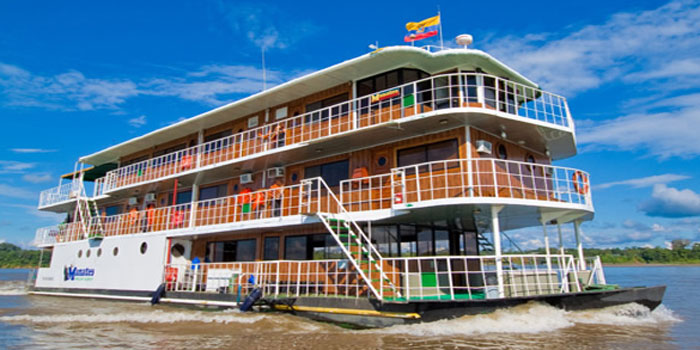 Manatee Amazon Explorer: Cruise A
4 Days Departs Fridays
EXPLORING THE AMAZON
This is a journey that takes us into the endless heart of biodiversity, which extends its fabulous prism of life throughout the Amazon Basin.
As detailed below, the very nature of this jungle realm teaches us that the best way to explore it is through a unique means of transportation: by navigating down the river on a fabulous, state-of-the-art vessel set to explore this truly unique environment.
The inspiring adventure will provide many unexpected, astonishing encounters. We will discover the Yasuní (the largest of Ecuador's continental National Parks), a wild and untamed realm in the heart of the Ecuadorian Rainforest. We will climb observation towers to enjoy unique perspectives of the forest and explore black water rivers escorted by otters and turtles. We will hike trails learning about the wonderful flora that makes up the eternal green of Ecuadorian Amazonia.
DAY 1.
FRIDAY: QUITO – COCA – NAPO RIVER
Departure from Quito. A short 30-minute flight takes us to the frontier town of Coca (Francisco de Orellana) – and transfer to the dock, where we will embark on a motorized canoe and navigate down river about 1 1⁄2 hour, to board the M/V MANATEE AMAZON EXPLORER. Throughout the journey we have a chance to admire the rainforest landscape and banks of the great Napo River.
Immediately after boarding the M/V Manatee, we continue navigating downstream. Passengers will have their first opportunities to enjoy the exciting features of our cruise ship: the spacious social areas, comfortable suites, and an observation deck that offers spectacular views. An evening walk is organized after sunset; it gives us the opportunity to discover the forest's nocturnal activity and listen to the incessant sounds of nature.
DAY 2.
SATURDAY: SANI WARMI – OBSERVATION TOWER
We will visit the Sani Warmi Kichwa Interpretation Center, where a group of Kichwa women will speak of their customs, cuisine and everyday life. They have created the center in order to showcase their culture, and it is a unique opportunity to learn about Amazonian lifestyles along the Napo River. You will also have the opportunity to buy crafts, local products and souvenirs.
In the afternoon, visit an observation tower 100-feet high, built against a giant kapok tree. From the top of the tower, we will be blessed with this unique perspective of the forest, looming over the treetops and the greatness of the Amazon Basin.
DAY 3.
SUNDAY: YASUNÍ NATIONAL PARK – YAKUKAWSAY
Breakfast on board. During this special walk within the Yasuni National Park, we will seek out the secret to Amazonia's amazing biodiversity. Our expert naturalist guides will lead us through this veritable Garden of Eden, telling us about the wonders of the floral and faunal communities that make it so special…
After lunch, we will make a stop at the Yakukawsay Kichwa Interpretation Centre, and end with an interesting evening walk through the forest (depending on accessibility, river water levels and weather conditions).
DAY 4.
MONDAY: RETURN
In the morning, disembark the M/V Manatee and transfer by motorized canoe to Coca (1 1⁄2 hour ride); flight to Quito.
---
Tour Cost
| | | Share | Single |
| --- | --- | --- | --- |
| Standard Suite 2015 | USD | 756 | 1135 |
| Children Under 12 - 2015 | USD | 378 | |
GLAMPING (Optional Excursion - up to 8 passengers) : USD$239 per person per night in 2015.
What's included
Transfers to/from Coca airport to the M/V Manatee when arriving on recommended flights - Accommodation in outside suites with private facilities, air conditioning, hot water and panoramic windows - All meals while onboard; unlimited water, coffee and tea - Programmed visits according to itinerary with a certified naturalist guide.
What's not included
Transfers to / from Quito airport - Airfares (Quito - Coca - Quito - USD$170) - Airline or airport taxes - Airline fuel surcharges - Community Entrance Fees (US$50 per person; these rates being subject to change with or without notice) - Alcoholic and non-alcoholic beverages - Gratuities - Internet WI-FI - Personal expenses, any other services not mentioned herein.
Notes
2015 prices and itineraries are subject to change with or without notice. Children under 12 years old are to stay with parents in the cabin. Triple Accommodation prices upon request. Photos courtesy of Manatee Amazon Explorer cruises.