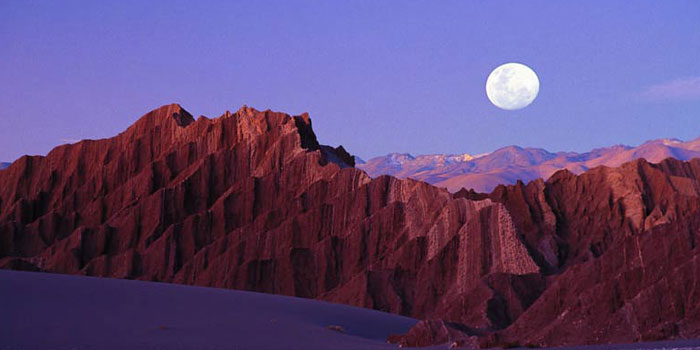 Alto Atacama desert lodge & spa
4 & 5 days Departs Daily
SPECIAL!
Combine with Vira Vira Hacienda Hotel.  Combine 3 nights at Alto Atacama with 3 nights at Vira Vira Hacienda Hotel and receive a 15% discount off the total program. Valid until December 2017.
Combine with The Singular Patagonia.  Combine 3 nights at Alto Atacama with 3 nights at The Singular Patagonia receive a 15% discount off the total program. Valid until May 2017.
Conditions apply.
Voted by National Geographic as 'Best Hotel in Chile'!
Lying discretely in the shadow of the Pucara de Quitor ruins, with the San Pedro river winding its way alongside, Alto Atacama desert lodge & spa is blessed with the most privileged location. The lodge is a stunning example of innovative and sustainable architecture, blending seamlessly into the surrounding red-rock hillside. The guestrooms and public spaces of the hotel pay homage to the Atacama region with splashes of the warm, desert colours and the use of local materials such as textiles and stone. There are myriad cultural and adventure activities to choose from, all under the supervision of an expert team of local guides, and our open-decked observatory provides unrivalled views of the amazing night sky. The lodge offers six irresistible outdoor pools, our spa boasts a wide range services to relax and rejuvenate the body and soul, and delicious culinary offerings complete the experience.
Day 1
CALAMA – SAN PEDRO DE ATACAMA
Arrive Calama and you will be met at the airport and transferred to Alto Atacama Hotel. From the moment you arrive, the Alto Atacama team will take care of you. The expert guides and crew, are able to make any one feel at home in the middle of one of the driest deserts in the world. Amongst other things, you will have the chance to feel you travel in harmony with the landscape, within the principles of the Leave No Trace outdoor system, leaving the places you travel to, as well or better than when you first arrived. On outings, both bikes and vans keep to the roads marked. Depending on your arrival time, you may take an excursion or relax and enjoy your desert oasis. D
Day 2
SAN PEDRO DE ATACAMA
The team at Alto Atacama believe that the world has to be walked, be explored, to become known. With an awareness that people have different interests and skills, your guides will help you feel comfortable and safe in whatever activity you choose. Expeditions can be physically demanding or relaxed, they can engage you intellectually or simply let you feel the energy of the desert. Whatever excursion you decide to be part of, the sights will stay with your forever, because Atacama is our world, one of purity and space. B L D
Day 3
SAN PEDRO DE ATACAMA
Excursions on foot, bike or vehicle will introduce you to the beauty and magnitude of Atacama – see high mountain lakes and witness the Andes in full display of power; the Tatio geysers, the highest and third largest geothermal field in the world. Walk through the eerie Moon Valley, see the Atacama Salt Lake, archaeological sites, dried up creek beds and quaint adobe villages. And, as in all of Alto Atacama's excursions there is no rush. Take all the pictures that you want, talk to the curious children, walk through the local markets, make moments last. B L D
Day 4
SAN PEDRO DE ATACAMA – CALAMA
Depending on your departure time, take an excursion or relax until it is time for your transfer back to Calama. B L
Other highlights of your stay at Alto Atacama desert lodge & spa are:
Stargazing
Chile's desert is blessed with the world's clearest skies and Alto Atacama's unique location away from the bright lights of the village of San Pedro means there is zero light pollution, providing the most dramatic setting for an evening of stargazing. The viewing area is atop a small hill, right next to the hotel, thus providing an even better vantage point.  The hotel's professional telescope is unique.   There is also much to see with the naked eye, as one can simply sit back on one of our specially designed lounge chairs, sipping a pre-dinner drink, and absorb the majesty of the night sky.
Excursions
Among the more than 30 excursions include visits to the Tatio Geysers, the highest in the world; swimming in the aquamarine salt waters of Laguna Cejar; photo safaris to high Andean terrain, including jewel-toned lakes and colourful swamps full of flamingos, alpacas and llamas; watching the sun set from the Valley of the Moon; and viewing petroglyphs etched on rocks in the Rainbow Valley. The Atacama Desert is an adventure traveller's dream, with trekking through lunar-like landscapes; mountain biking through the salt- encrusted ridges of Death Valley or across sand dunes; and, for those with the physical strength and ability, climbs up one of four volcanoes. The region is also a living archaeological museum, with Inca and atacameño ruins that date back thousands of years, remnants of ancient trade routes, and the village's Padre le Paige Museum that features perfectly preserved artefacts such as tools, clothing, and instruments used in religious ceremonies.
PuriSpa – after the exursions, it is time to relax!
Alto Atacama desert lodge & spa's deluxe PuriSpa provides an experience that pampers, reduces tension and heals. Located near the six wonderful oasis-like swimming pools, the PuriSpa is a haven of relaxation, featuring an indoor Jacuzzi, steam room and sauna, as well as massage, aromatherapy, reflexology, and even gong therapy.  Try a Moonlight Massage,  or  enjoy a romantic candlelit massage for couples, and Altiplanic Mud Wrap, or a Quinoa Facial
---
Tour Cost
| | | Share | Single |
| --- | --- | --- | --- |
| Quitor room - 3 nights | USD | 1892 | 2444 |
| Catarpe room - 3 nights | USD | 2124 | 2532 |
| Quitor room - 4 nights | USD | 2340 | 3024 |
| Catarpe room - 4 nights | USD | 2628 | 3132 |
What's included
Wifi available Breakfast, Lunch and dinner at the hotel Reception inside the Arrivals Hall at Calama airport Arrival and departure transfers between Calama airport and the hotel Accommodation Daily excursions (2 half-day or 1 full-day) Free use of mountain bikes Complimentary transfer service between the hotel and the village of San Pedro (8.30am to 11.30pm) Access to the spa (sauna, steam room, jacuzzi, etc.) Access to swimming pools and outdoor jacuzzi.
What's not included
Airfares, airport taxes, gratuities, visa fees, Items or a personal nature.
Notes
Prices are valid until 30 April, 2017. Shorter and longer stays are available with full board and excursions, half board and B & B. All prices quoted are subject to change.